Truly wireless headphones give comfort and freedom. Especially those that we can easily put in our pockets and forget about them until we need them again. That's what the Padmate company comes up with, offering its latest product – Pamu Slide.
The scale of this product's popularity is demonstrated by the following numbers: over 46,000 orders, almost $6 million paid into the company's account, reaching 16,537% of the target. And 22 days left to the end of the campaign. So where did the interest in Pamu Slide headphones come from?
The magnet attracting buyers is certainly the specification of the headphones and their offered options, which the manufacturer has listed them in four points: excellent sound quality, long working time, connection stability and high comfort of using headphones.
Pamu Slide uses the Qualcomm QCC3020 chip, which is the most advanced chip of this type currently available on the market. It is to ensure a stable connection, better sound quality and lower battery consumption compared to Qualcomm CSR systems, which are still used by manufacturers such as Bose, Sony and Jabra.
UNCONVENTIONAL CASE
An interesting fact is how to open the headphones. Most often we have to do with the lid or hinged lid that opens up. In the case of Pamu Slide it is a bit different. To open them, we need to move the lid horizontally, just as sliders used to open. Very interesting solution, I wonder how it will be with its strength as a function of time.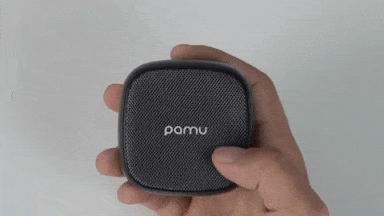 Like most wireless headphones currently sold, pamuslide offers gesture control. And like the competition, one touch stops the song, and double taps to start the next song. People actively spending time will certainly be pleased with the presence of the IPX6 certificate, which allows you to run with headphones even in the rain.
PAMU SLIDE OFFER 10 HOURS OF WORK
The time of their work is also promising – the manufacturer guarantees up to 10 hours of continuous music playback, which, together with the case, extends to impressive 60 hours of operation. All the wireless headphones of this kind that I bought so far had one, constantly recurring disadvantage – the outdated microUSB connector. Pamu Slide not only offer USB-C, we also have quick charging here – 5 minutes of charging allows you to enjoy music for an hour.
At the time of writing this article, Pamu Slide can still be purchased for $89, which together with the free shipment. A more inexpensive version pamu slide mini is also available for purchase, which is equipped with a built-in wireless chargeing too. This version is already $69. The headphones are available in 4 colors: black, white, pink, green.
What's more, a review of these headphones will soon be presented to you by our editorial colleague, Kamil! So keep up to date on our website – we'll check for you whether these headphones are really as good as the manufacturer assures.
Is Pamu Slide rightly popular? If you have or have already ordered these headphones, let me know in the comments!